A Taste of Monarch: A Taste of Success
December 6, 2019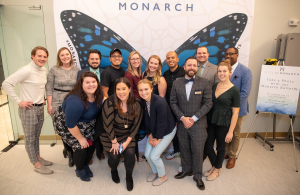 If you attended the Taste of Monarch event on 11/7, then we thank you for taking the time out of your busy schedules to mingle with us and we hope you enjoyed the event as much as we did!
The Taste of Monarch was definitely a huge success, with over 100 residents and prospective residence in attendance. We were honored to have such great vendor participation as well, with Nandos Peri Peri, Potbelly Sandwich Shop, Mission BBQ, Greene Turtle, Coal Fire, Wegmans and Blush Boutique all joining together to create a memorable experience for residents and prospective residents.
Upon entering the event, attendees were greeted and there were beautiful Monarch branded cookies from Sugar Butter Love, along with Monarch tote bags, up for grabs. Attendees enjoyed sampling everything the vendors had to offer, and of course, taking photos with our Monarch Butterfly photobooth backdrop. While everyone was mingling and sampling delicious food and drinks, local band Freak Flag Fly played live music throughout the evenings.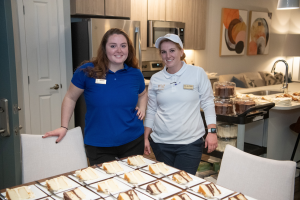 Attendees were also able to see our luxurious apartment homes, as well as tour the property and all of its vast amenities. In apartment #136, we featured a crafted cocktail station, and in apartment #142, we had a decadent desserts display set-up by Wegmans. This way, residents and prospective residents could see the different types of apartments offered by us at Monarch Waugh Chapel, all while enjoying delicious drinks and desserts!
The night concluded with a raffle, and 3 lucky winners won a themed gift basket of either cheese and crackers, coffee lovers, or a yearlong membership to Greene Turtle's Beer Mug Club.
We thank everyone who was able to attend; especially those who decided to make Monarch home that night. If you weren't able to make it, stay tuned for our next Open House event.